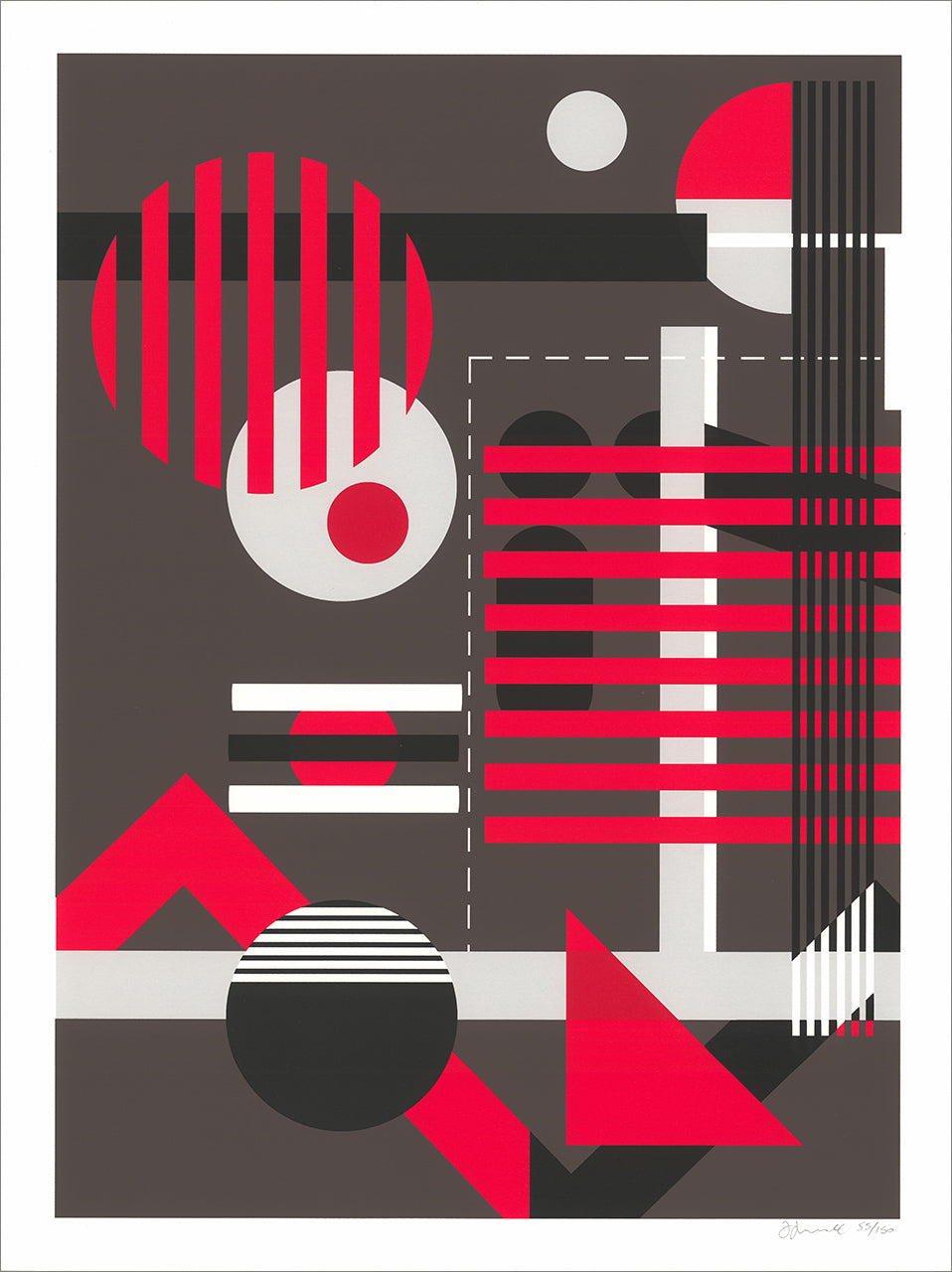 JG Thirlwell: Domoscape #1
Regular price $ 75.00 $ 75.00 Sale
Signed and numbered edition of 150 by J.G.Thirlwell
4 color screenprint on French 100lb cover, 24"x18", 2017
JG Thirlwell is a composer/producer/performer based in Brooklyn,NY. Born in Melbourne, he moved to London in 1978 , then relocated to NYC in1983, where he has been based ever since. As well as his own name, he works under many pseudonyms including Manorexia, Foetus, Steroid Maximus, Baby Zizanie, Hydroze Plus, Clint Ruin and Wiseblood.
He has released over thirty albums. If there is a common thread to his varied musical styles, it is a dramatic intensity and an evocative, cinematic quality. Thirlwell has also featured as producer, remixer, collaborator or arranger for a wide variety of artists including Karen O, Noveller, Excepter, Zola Jesus, Melvins, Swans, Nine Inch Nails, Lydia Lunch, Coil, Z's, Nick Cave and many more.
JG has completed commissions for Kronos Quartet, Bang On A Can, Thyssen-Bornemisza ArtContemporary, Experiments in Opera, Zephyr Quartet and League of Electronic Musical Urban Robots, and is a member of the"freq_out" sound-art collective, curated by CM Von Hausswolff, who create on-site sound and light installations. He is also an acclaimed graphic artist. In 2010, he received a fellowship from New York Foundation of the Arts in sound / composition.
He has created solo sound installations which have exhibited in Santarcangelo, Italy and Kaliningrad, Russia. He often performs live with a chamber ensemble version of his Manorexia project.
JG also creates the musical score of the Adult Swim / Cartoon Network show The Venture Bros and the FX show Archer, and has created several motion picture scores. JG has been completing a residency at Elektronmusikstudion in Stockholm, as well as scoring a documentary about the condition of hypertrichosis. He has just completed a composition for solo contrabass for James Ilgenfritz and a commission for solo cello for Jeffrey Zeigler. He is working on a commission for Great Learning Orchestra in Stockholm, and has also just completed the score to Tony Oursler's new film installation, Imponderable, which is on show at the Museum of Modern Art in New York. 
Made in Brooklyn, NY. Standard 18"x24" size for easy and affordable framing. Unframed prints ship in 1-2 business days. Framed prints are fulfilled by Simply Framed and current lead time is approxiately one month. Frames are glazed with 99% UV blocking plexi and have a shadowbox spacer.