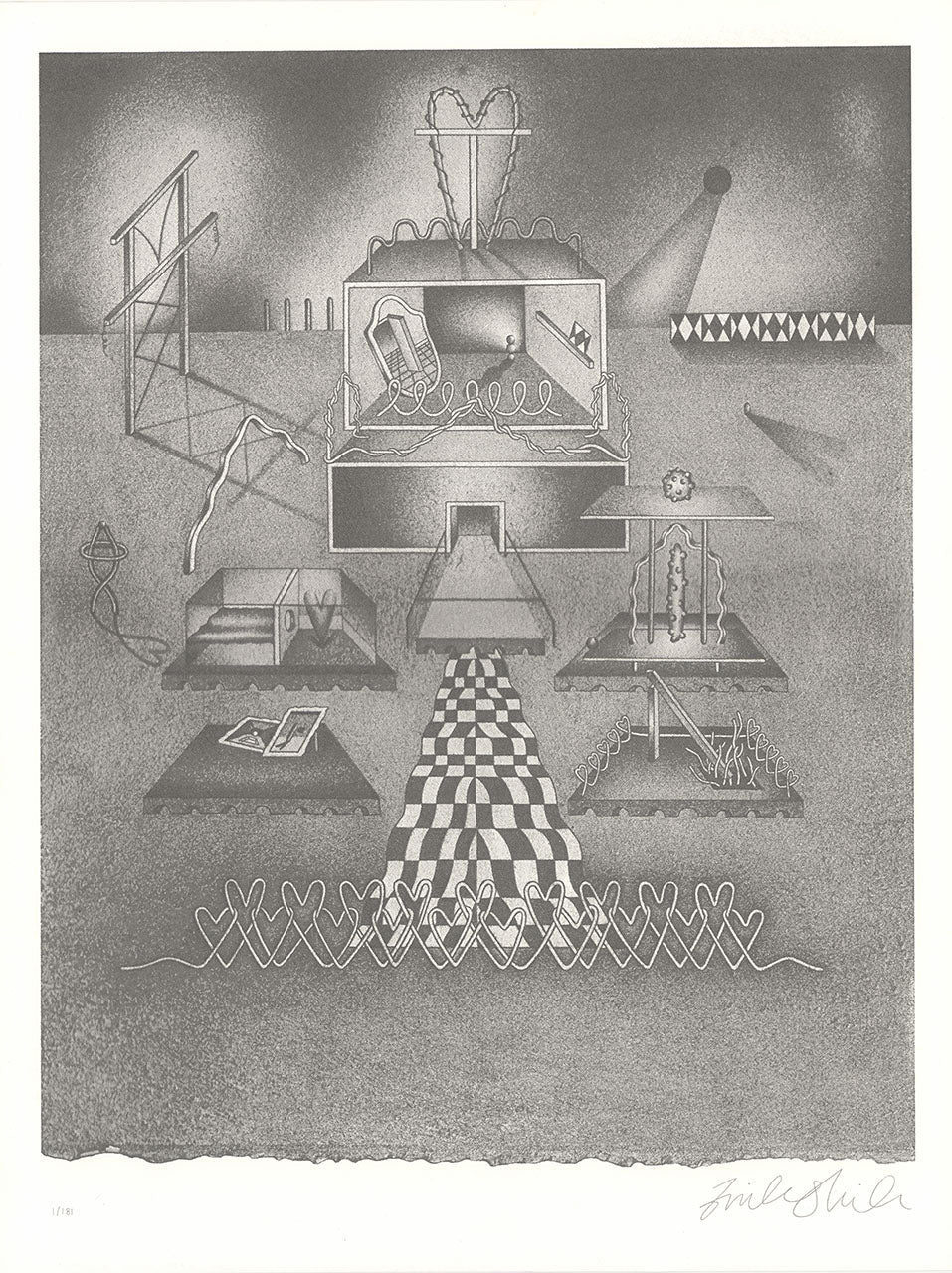 Erika Shiba: Here There
Regular price $ 75.00 $ 75.00 Sale
Signed and numbered edition of 181 by Erika Shiba @erkashba 3 color screenprint on 100lb French, 2022
Spaces are transient. They can change, be destroyed, or be replaced, but the emotional relationship one has with these spaces is far from ephemeral. Spaces you once thought were insignificant could suddenly make you cry. A hug is a space in the same way your home is.
I believe that spaces are vessels for memories and experiences. In this graphite drawing, I wanted to memorialize these intangible moments that I remember from my home(s) by symbolizing them using obscure forms and structures. I see this landscape as a collection of "memory souvenirs" - bits and pieces from my personal history.
Erika Shiba is a Japanese printmaker born and raised in Hong Kong. She received her BFA in 2018 from Parsons School of Design in New York for Illustration and Printmaking and received her MFA in Printmaking at Illinois State University in 2021. Record-keeping, journaling, home(s), cryptology, and memory are at the core of Erika's research. Her main interest currently is in memory and its delicate nature. She records, questions, and reflects on her own memory and creates ciphers to represent this process using printmaking techniques and graphite drawings.
Made in Brooklyn, NY. Standard 18"x24" size for easy and affordable framing. Unframed prints ship in 1-2 business days. Framed prints are fulfilled by Simply Framed and current lead time is approxiately one month. Frames are glazed with 99% UV blocking plexi and have a shadowbox spacer.